Established in 1938, we are a fifth generation, family run British Tannery based in the heart of the English countryside in North Bedfordshire. We produce classic and high fashion bespoke leathers tanned and finished out in England on Goat, Cow, Buffalo, and Deer. Our leathers are used all around the world for luxury leather goods, handbags, small leather goods, footwear and bookbinding.
Click here to shop our current stock online!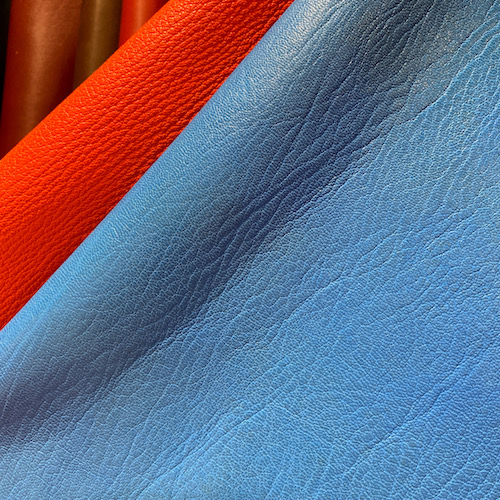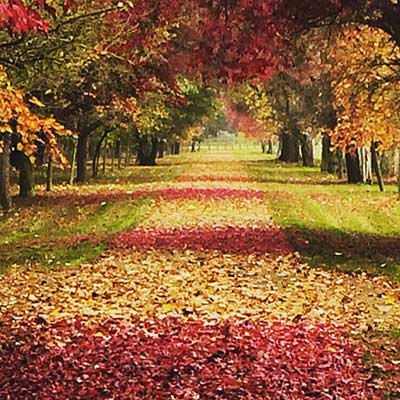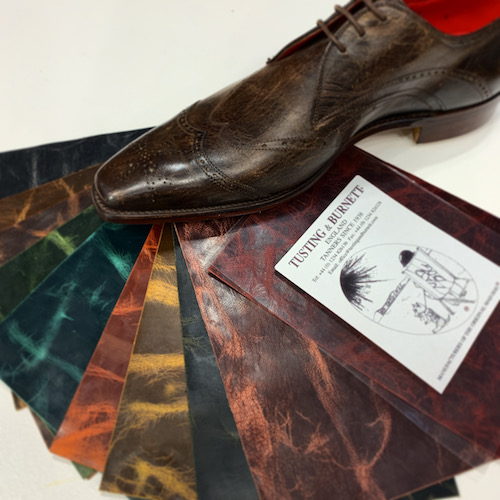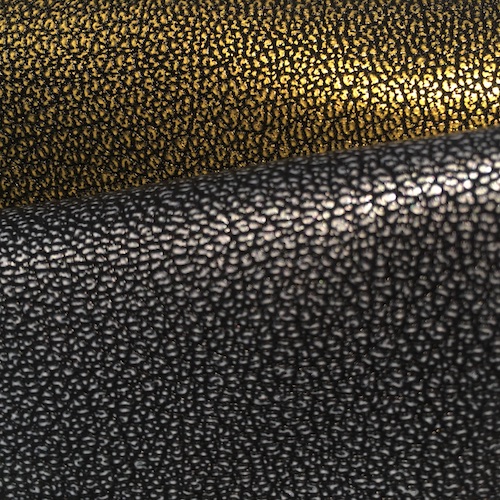 We supply to luxury leather manufacturers and brands all around the world and offer a totally bespoke, personal service. Every aspect of our leather can be tailored to each customers' requirements from the skin selection to the tannage, colour and finish so that each leather fits our customers' exact and differing requirements.
We specialise in classic and high fashion goat leathers using the finest quality veg-tanned Indian goat skins, as well as the Sokoto, veg tanned African goat and sheep skins which have a very distinct grain pattern, unique to this specific raw material. We are by far the largest producers of this unique raw material and we have developed many original hand finishes to enhance the natural beauty of this grain. This unique leather is used in Boots, Bags, Small leather goods and is also the traditional leather used in classic bookbinding. For information on our bookbinding finishes please click here. 
We also have a wide range of interesting cow calf, buffalo, sheep and lining articles available from our overseas partner tanneries.
Due to the bespoke nature of our leather, all of our articles are made to order –  this enables us to give each order the time and attention to detail that it needs. We do however have a large stock of ex- sample and show leathers that we sell off to customers requiring smaller quantities. Please contact us to register for our next warehouse sample sale.
Established by Harrold Tusting and his Scottish wife Bessie (Burnett), on the 21st September 1938 in Odell Bedfordshire, the Tusting and Burnett name and company was born.
The Tannery has remained within our family ever since and is now a fifth generation family run, English business. My father, Robert Tusting, a graduate of the Northampton Leathersellers, was amongst the first year of students at the new Moulten Park Leathersellers' Centre. With an interest in art, design and fashion, we have always been renowned for producing innovative leathers. Pioneering the vintage, antique look that is now ever present in all areas of fashion and décor. The greatest example of which, is our trademarked Mad Dog® goat leather, that has been much imitated but never replicated.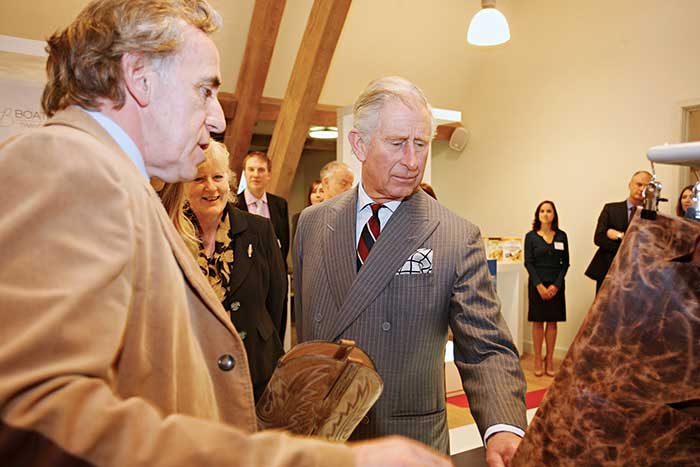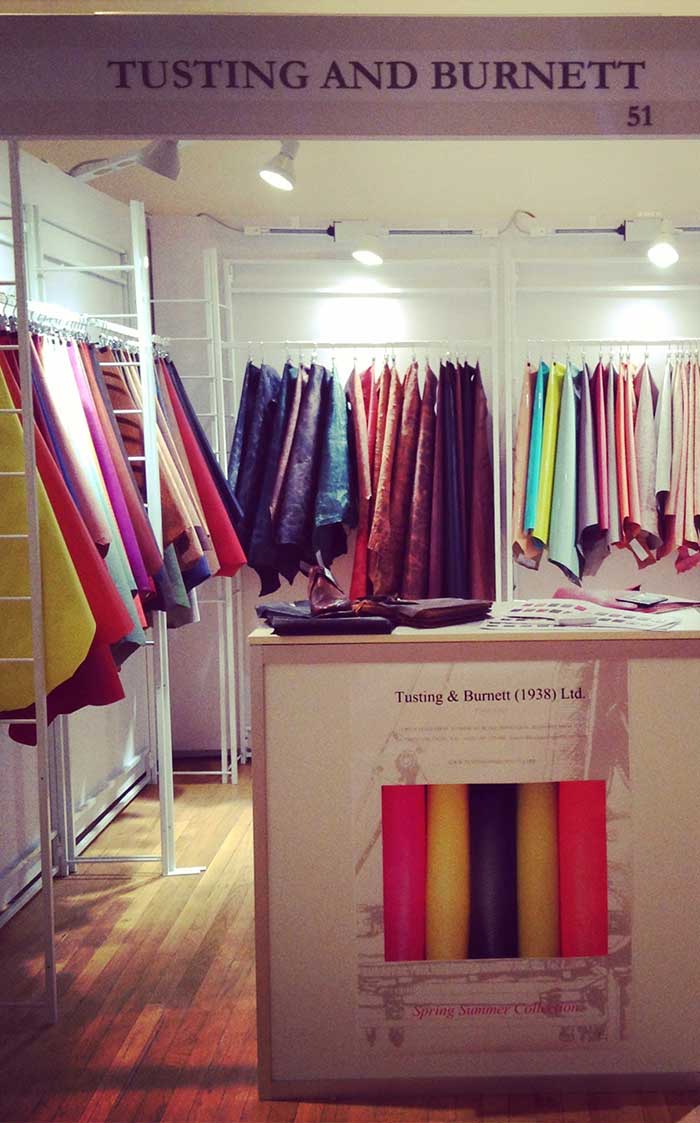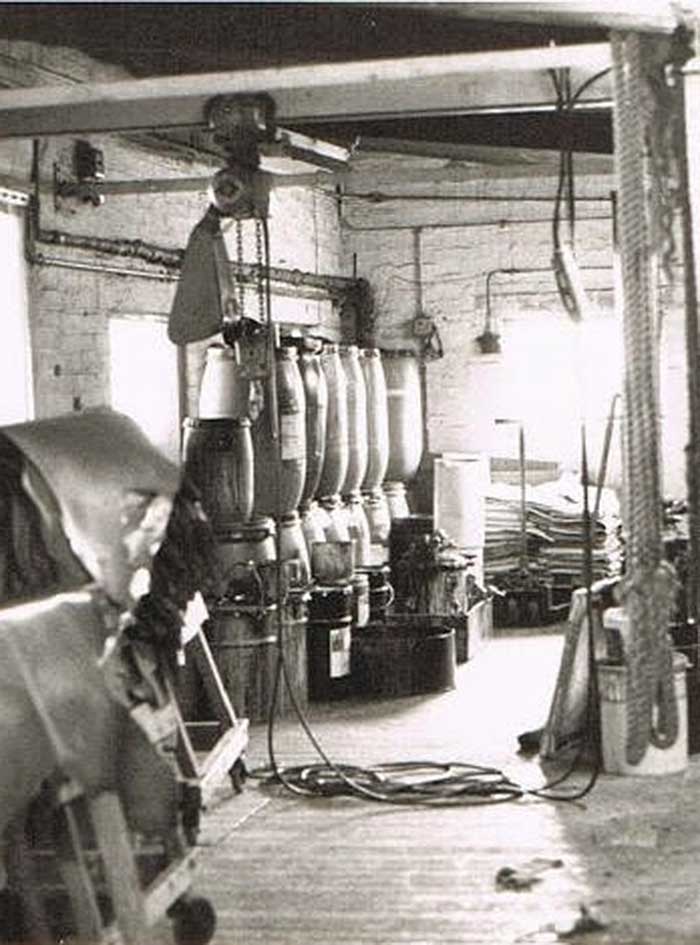 From the very beginning we have been an international company, shipping our leather all around the globe. In 1985 we were recognised for this and awarded the Queens Award for Export Achievement. Since then we have continued to grow, and expand our company, offering a huge range of authentic, original finishes on goat, cow, buffalo, sheep and deer skin which end up in all corners of the world in numerous different forms.
We are very proud of our company's heritage, and myself and my brother, Benjamin Tusting, are privileged to be able to carry the name and business on well into the future.
Charlotte Tusting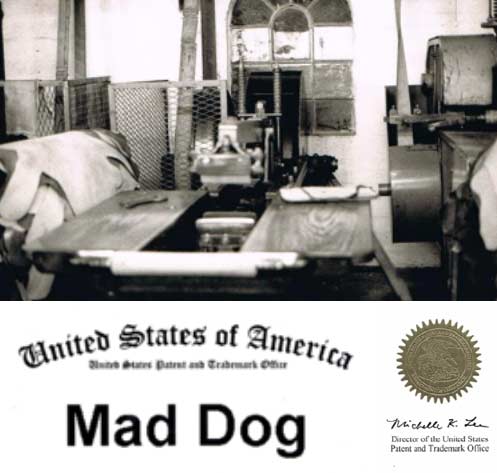 ARTISANAL, ECO LEATHERS
At Tusting & Burnett, we are committed to creating fresh, exciting new leathers in an artisanal, sustainable way to ensure minimal environmental impact on the planet whilst creating luxurious, and original finishes that will pass the test of time.
As one of the only completely renewable materials there is, we are proud to produce all of our articles on 100% real leather and never plastic. Our goal is that the products made from our leather become heirlooms and not landfill.
With each new range of leathers' we create, we are always trying to push the boundaries to further reduce our environmental impact.
By using more hand processing, we are able to create unique, artisan leathers that use less power and fewer chemicals. Our Aniline dyes and natural oils and waxes also mean that the natural beauty of the raw material is allowed to shine through that, unlike synthetic materials, will only get better with age.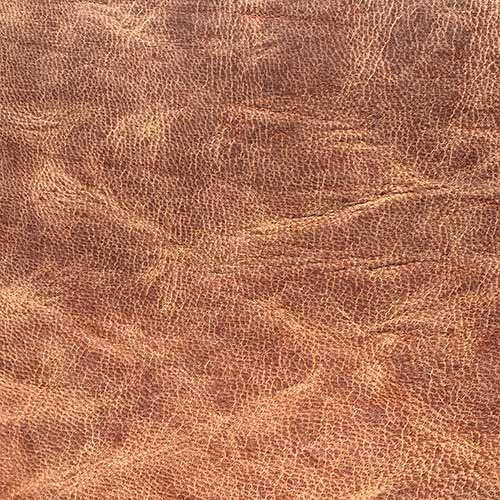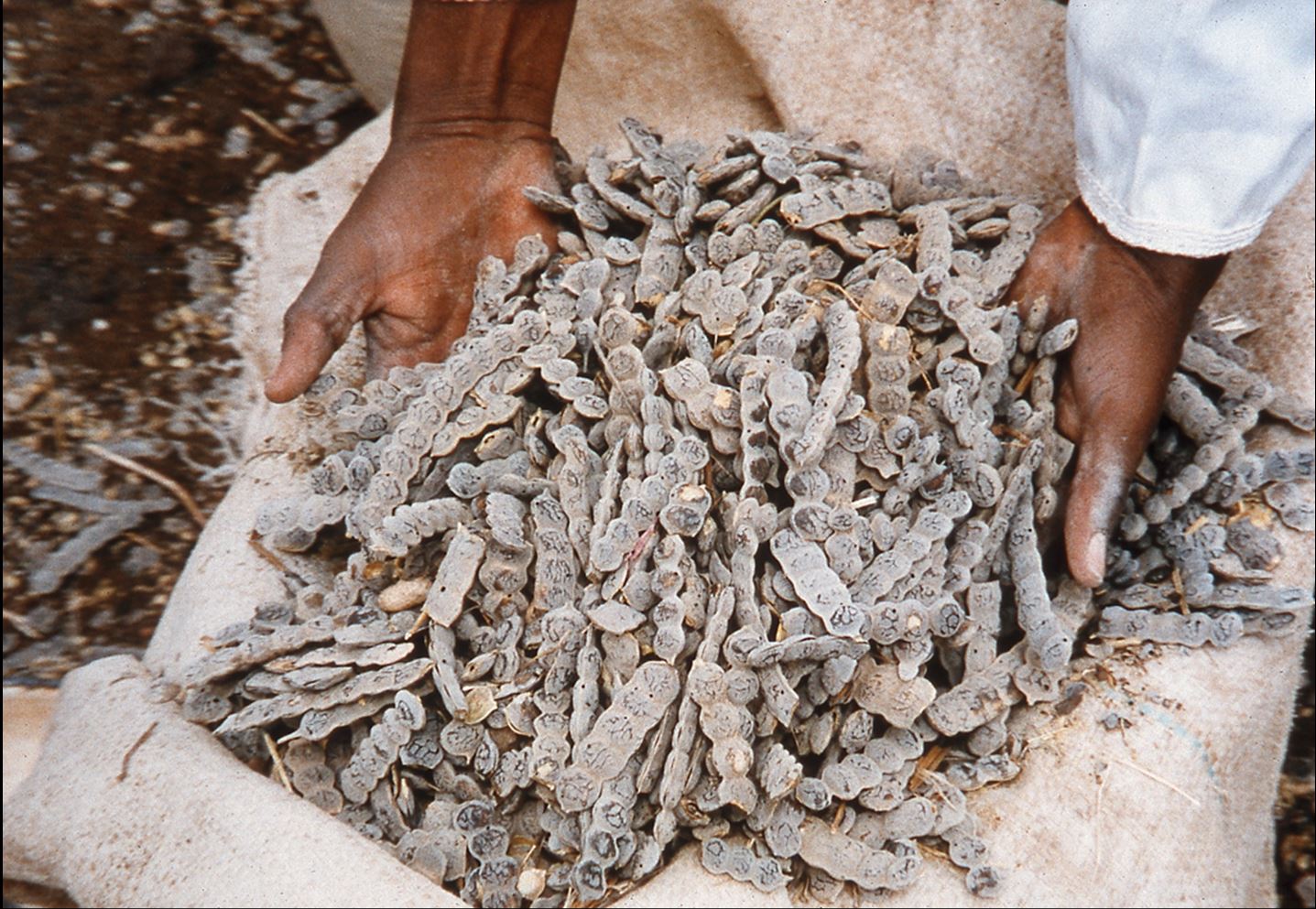 Our Vegetable Tanned, Farm Reared, African Goats are the perfect example of our commitment to using sustainable raw materials. Our signature raw material, these Goat skins are tanned by hand in a farming cooperative in Africa using only the Begaruwa seeds that grow on the Nilotica trees on their land. The skins are all tanned by hand, and twisted during the tanning process to create a beautiful, natural shrunken grain pattern that is unique to this particular raw material. Every single part of the animal is used by the cooperative, and the money raised from whatever is left over, including the hides is what supports the entire community.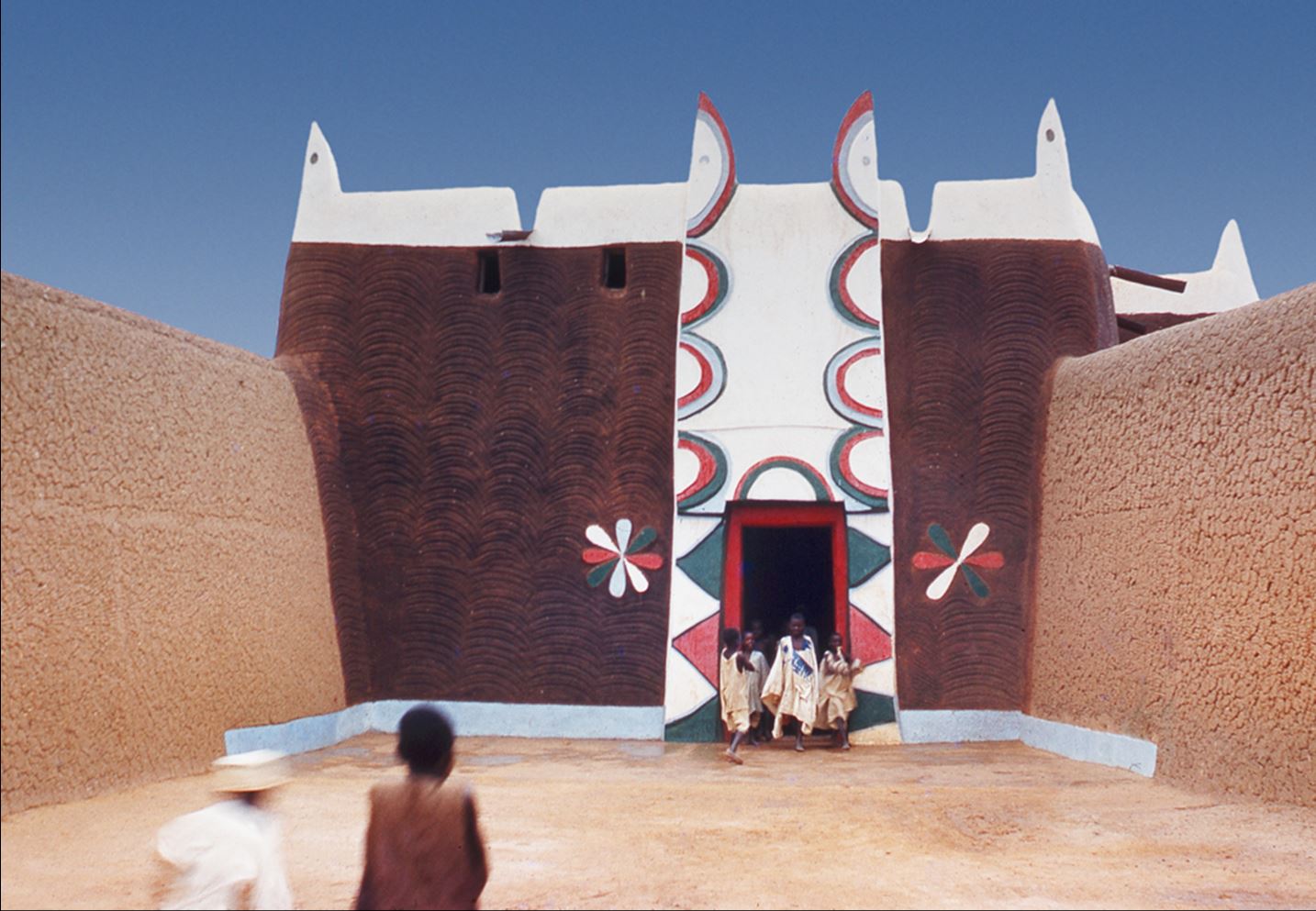 Our goal is not to create perfect, uniform, pigmented leathers, but instead; beautiful, unique, natural leathers, that stand the test of time. Each natural marking and blemish adds to the special character of each skin and to the rich, natural patina of the finished article. 
We want everyone who owns a product made from our leather to know that they have something that is special, unique to them and is enhancing rather than destroying the planet which we live on.
We have developed many different finishes on this unique raw material, from shrunken grain, aniline bookbinding finishes, to hand buffed, antiqued, vintage look leathers. Each finish enhances the beauty of this unique, wild animal in a different way, and showcases its unique grain pattern, resulting in a rich, aniline leather. The finished leather can then be either polished, burnished, distressed, washed or hand stained to create a huge variety of different looks. 
It was this unique raw material that inspired the creation of our signature Mad Dog® leather, that we have now been making for well over 30 years and in many different forms.
MAD DOG®
We have been producing Mad Dog®, our signature trademarked leather, for over 40 years.
A unique and rare leather, Mad Dog® is produced on vegetable tanned farm reared African goats. Our signature recipe of natural oils and waxes used in the finishing, enhances the beauty of this unique and wild animal showcasing its unique grain pattern, resulting in a rich, aniline leather that ages beautifully and makes each article unique. Mad Dog® can be polished, burnished, distressed, washed or hand stained to create a huge variety of different looks depending on whether a vintage, classic, or dressy aesthetic is required.
Over the years the Mad Dog® range has developed with demand and we have made many variations of the original article and on many different raw materials, from the original African goat, to cow calf, English deer and buffalo. As pioneers of the natural vintage look leathers which are now so popular and prevalent in the market, our Mad Dog® article has been much imitated but never replicated.
Please click on the below images for more information on the articles in our Mad Dog® range.
Products
We offer one of the most diverse range of leather you will find. Our huge range of leathers on goat, cow calf and buffalo comprise of natural, aniline glazed finishes, hand antiqued, distressed, vintage look leathers and everything inbetween.
All of our articles can be adjusted to create a fully bespoke leather. choose your raw material, tannage, colour and finish to create your desired look.
Bookbinding Leather

Tusting and Burnett are by far the largest user and stockist of the Sokoto Nigerian Goat Skin, and as such we have unrivalled access and choice of the highest quality skins. These fully Veg Tanned skins allow for gold leafing and hand tooled decoration, and our hand tipped aniline finishes allow the natural beauty of the grain to shine through. These unique skins give you the ultimate, classic Bookbinding look that has been used for centuries. As we have been using these skins since the year of our incorporation in 1938, we are able to offer unrivalled quality and value for money. Below you will find a selection of our Bookbinding leathers that we carry in stock.
Stock
We carry a carefully curated selection of our core leathers in a variety of finishes and colours.
Our stock program currently includes classic, veg-tanned, Bookbinding leathers on Sokoto Goat, our trademarked Mad Dog® Goat, and a classic, even grain, hand tipped Goat. These are all perfect for use in small leather goods, footwear, handbags and all other leather craft work.
MADE TO ORDER COLLECTION...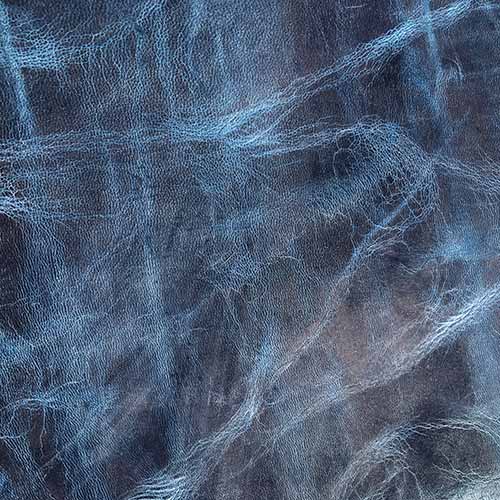 Mad Dog®
The Original Mad Dog®, our signature, trademarked African veg-tanned goat leather. This waxy crunch pull up can be burnished, polished, distressed to create many different looks. Perfect for high end footwear, small leathergoods, luggage and clothing.
For more information on this article please click here.
Size range: 6-8 ft
Substance: 1.0-1.2 mm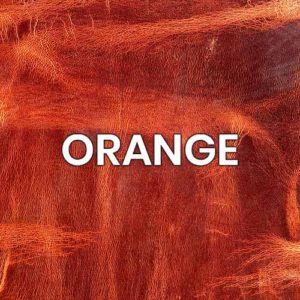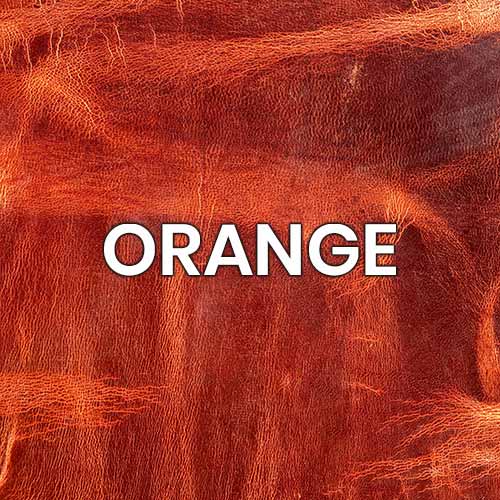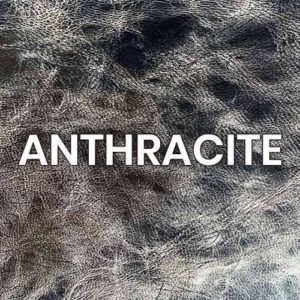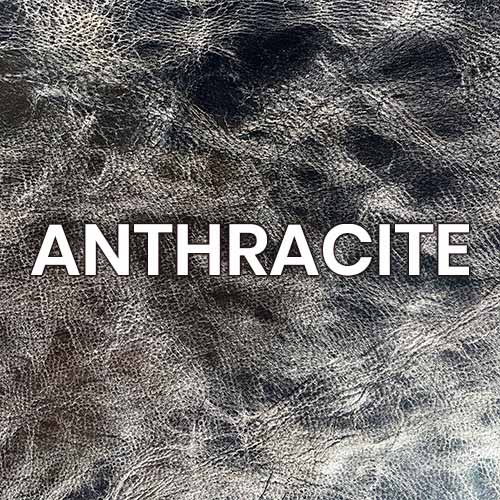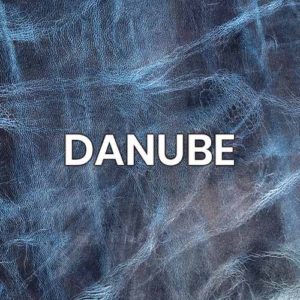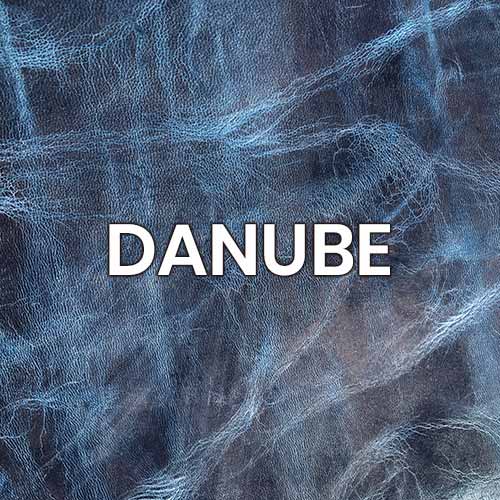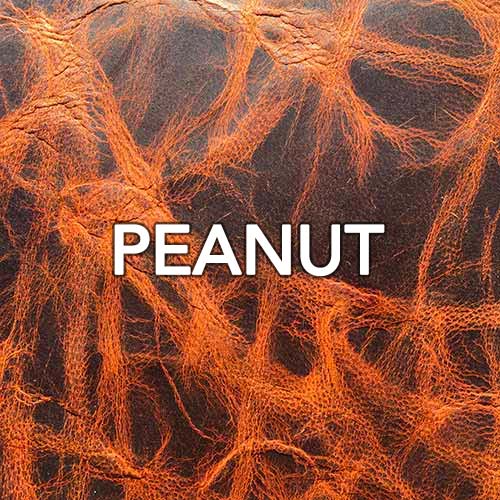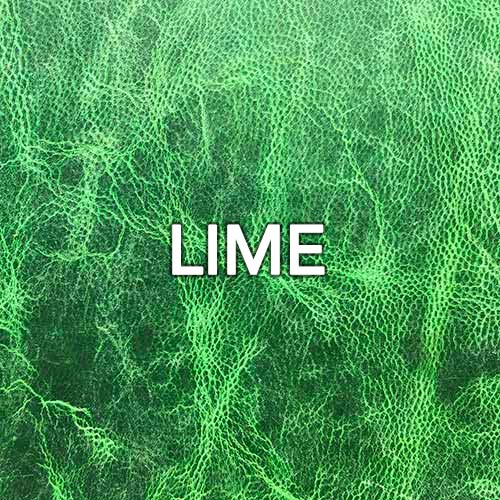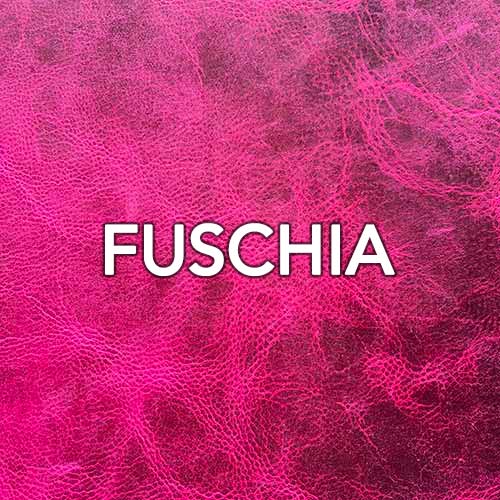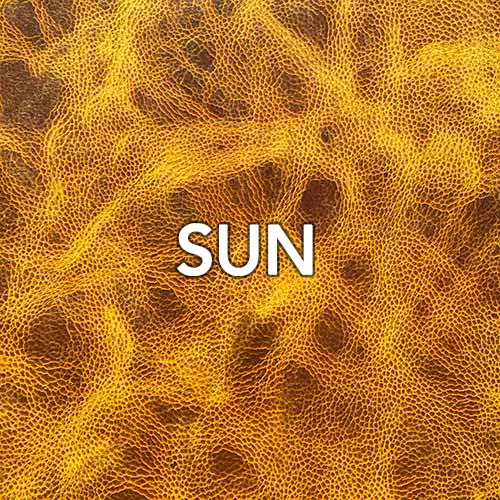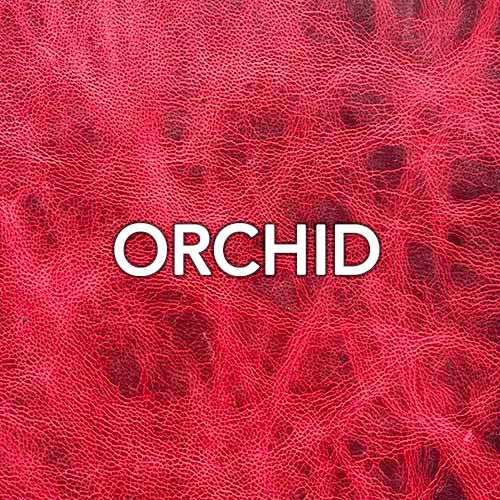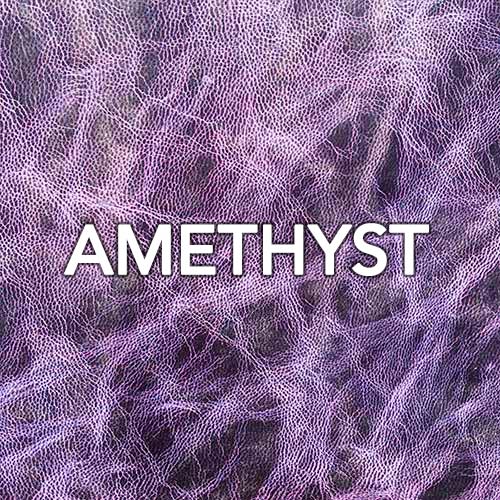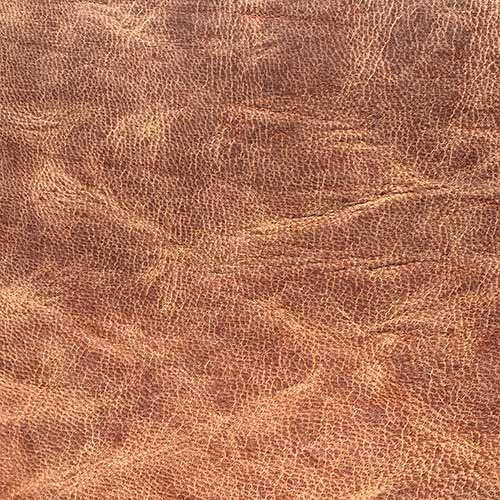 Soft Mad Dog®
A softer version of our signature Mad Dog® leather, with a softer waxy crunch finish.
Size range: 6-8 ft
Substance: 1.0-1.2 mm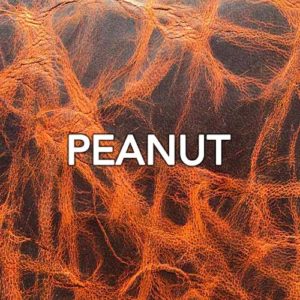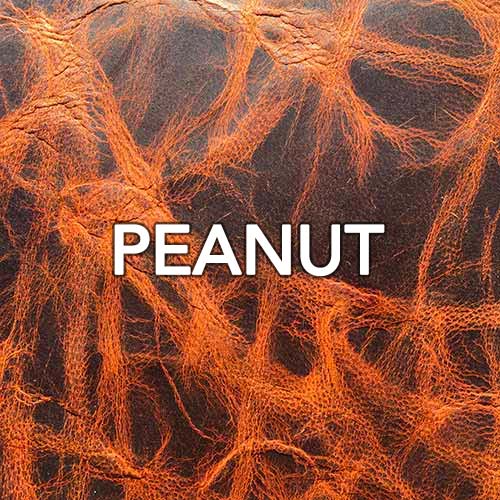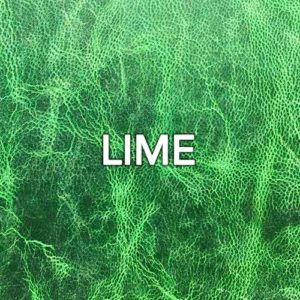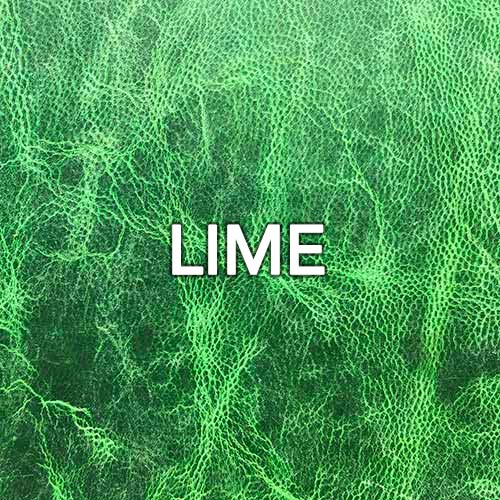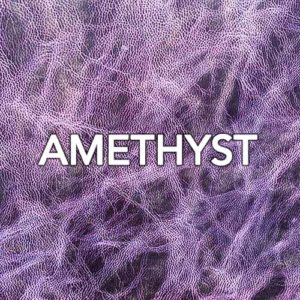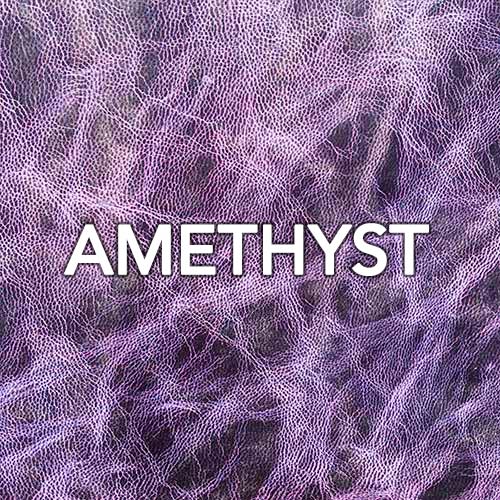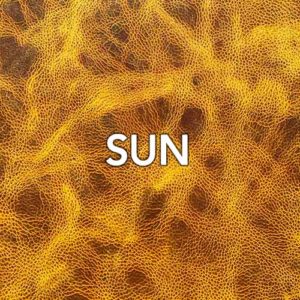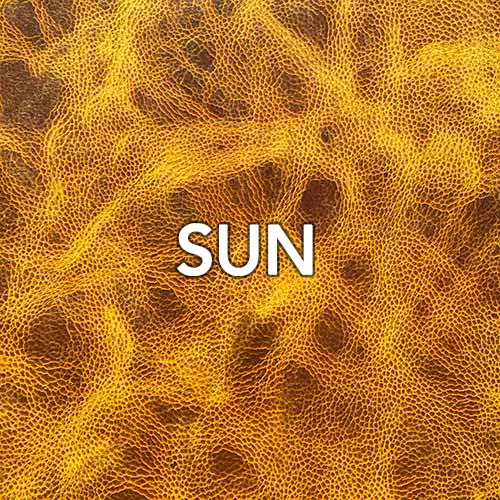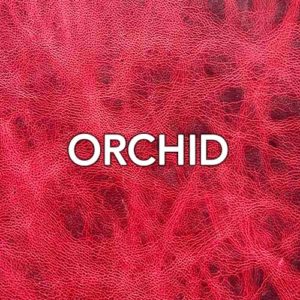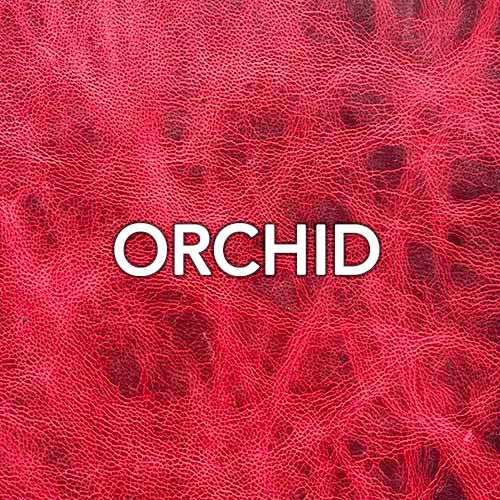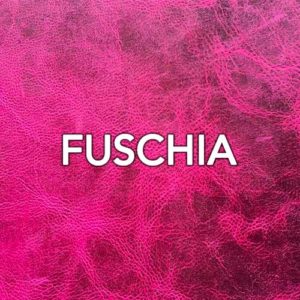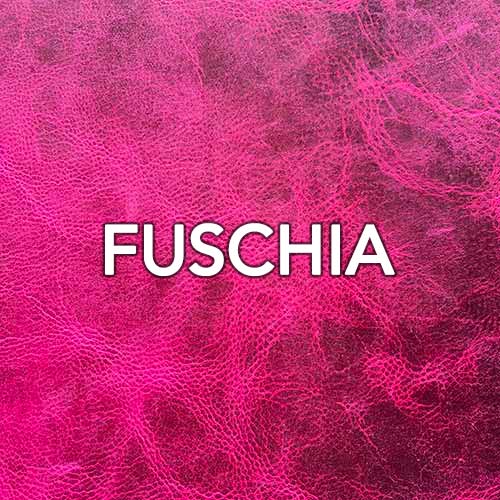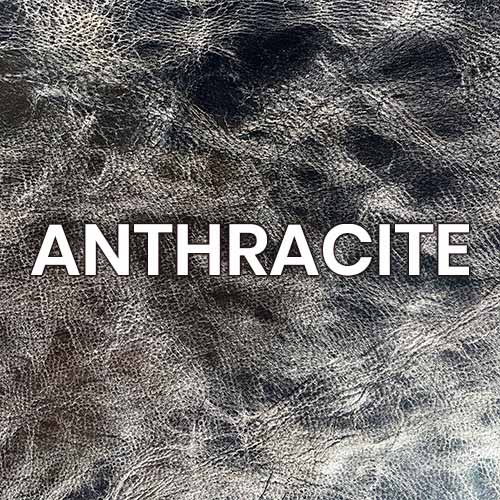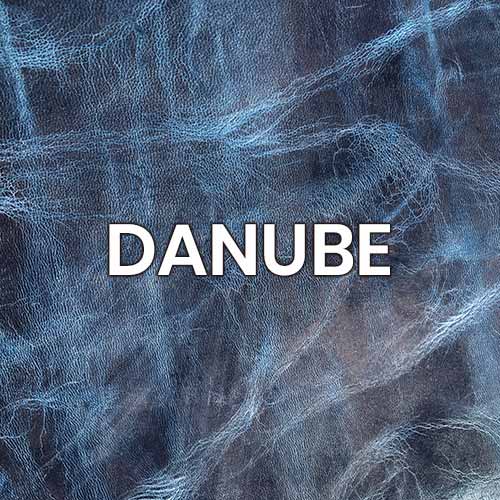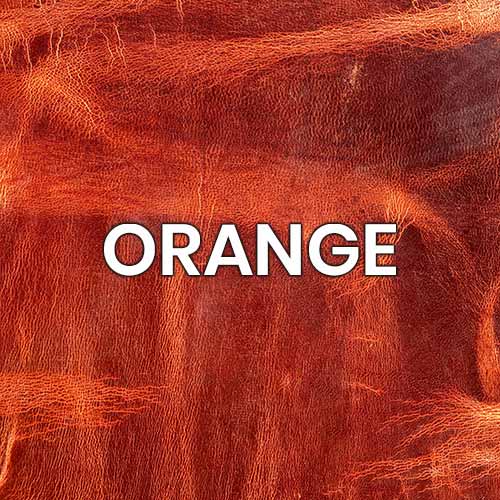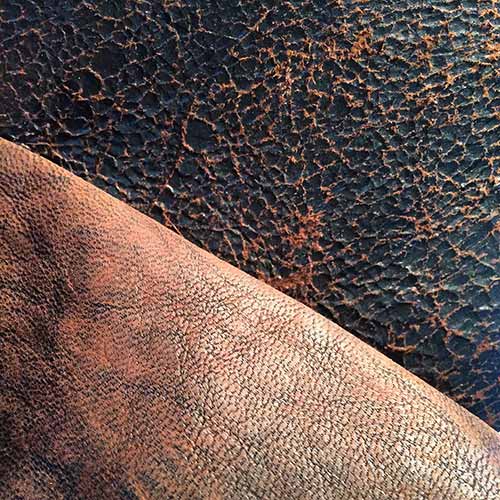 Mad Dog® Mammoth
A double sided article with our Vintage Mad Dog® finish on the grain side, and a crackle glaze finish on the flesh side.
Size range: 5-7 ft
Substance: 1.0-1.2 mm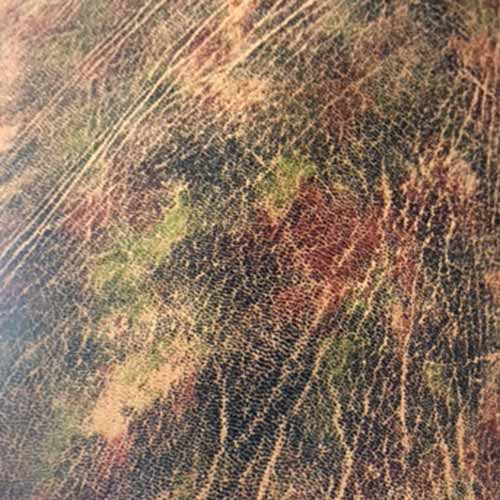 Mad Dog® Camouflage
Our signature Mad Dog® leather with multi tonal camouflage antiquing on the base.
Size range: 6-8 ft
Substance: 1.0-1.2 mm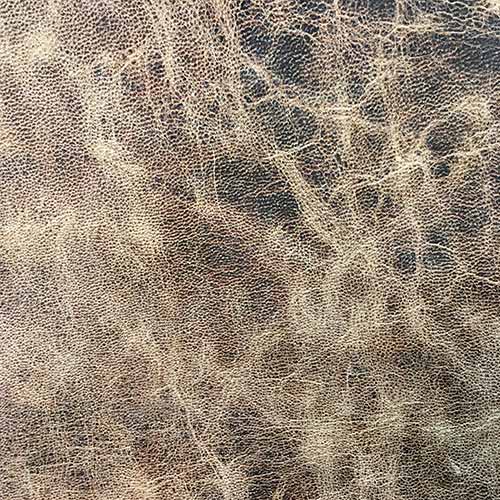 Mad Dog® Deer
Our signature Mad Dog® finish on British deerskin, giving a bigger skin size with a more relaxed grain and vintage look.
Size range: 12-15 ft
Substance: 1.0-1.2 mm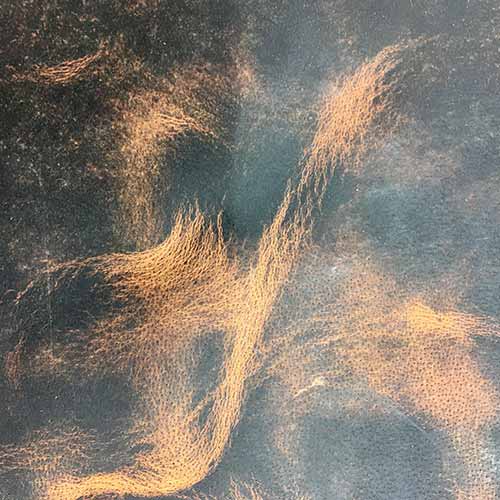 Mad Dog® Buffalo
Our Mad Dog® finish on buffalo with a waterproof top.
Size range: 14-19 ft
Substance: 1.2-1.4 mm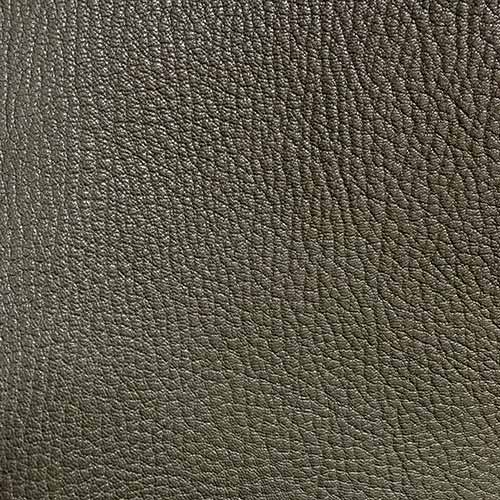 Arabella
A beautifully soft, double shrunken natural grain Goat leather. Perfect for handbags.
Size range: 6-8 ft
Substance: 2.0-2.2 mm
Natural Marsh
A stand out article in our Eco, Artisinal range of leathers; this Fully Vegetable Tanned article is tanned by hand using the seeds from the Begaruwa Trees. It is completely undyed and has no pigment or dyes applied during final finishing.
In this article, the natural shrunken grain of the African Goat is showcased in all of its glory, and is randomly buffed using a hand buffing machine to create a unique two tone, textural effect
The tanange is soft and mellow and this article can be produced in a variety of different weights to suit most applications.
Size range: 5-7 ft
Substance: 1.2-1.4 mm up to max 2.5 mm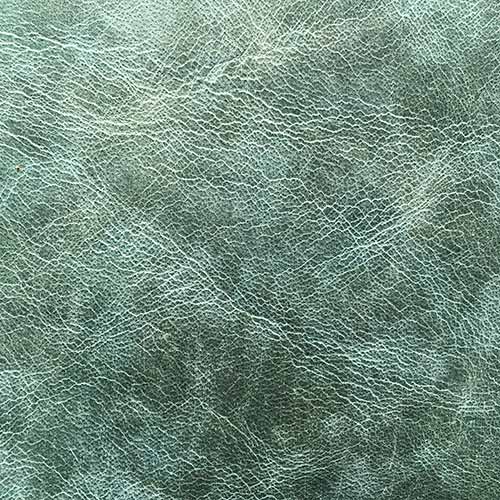 Wild Oak
Antiqued buffalo leather with a natural, burnishable finish.
Size range: 6-12 ft

Substance: 1.0-1.2 mm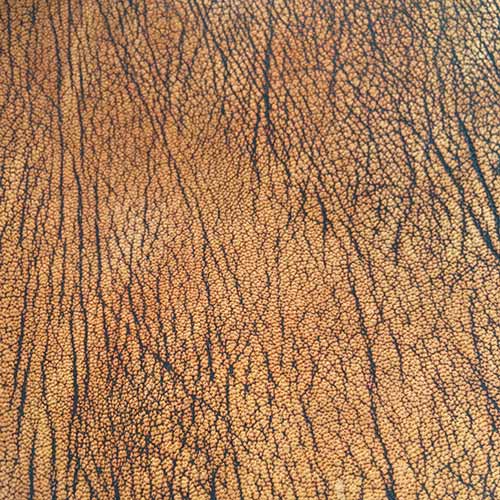 Old English
A smooth, soft leather with black antiquing in the valley to enhance the natural grain line of these African goats.
Size range: 5-7ft
Substance: 0.9-1.1mm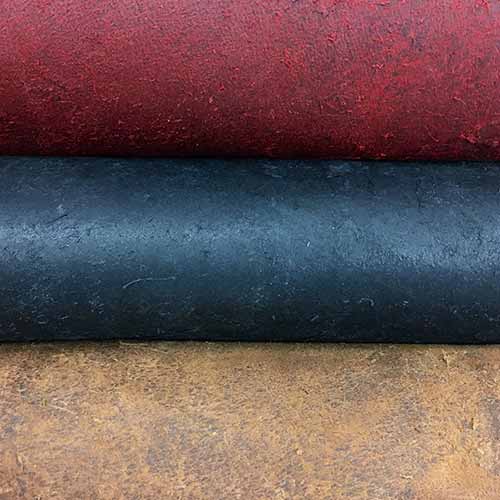 Old Tree
A rough flesh, oily waxy finish on Buffalo Split.
Size range: 6-12ft
Substance: 1.3-1.5mm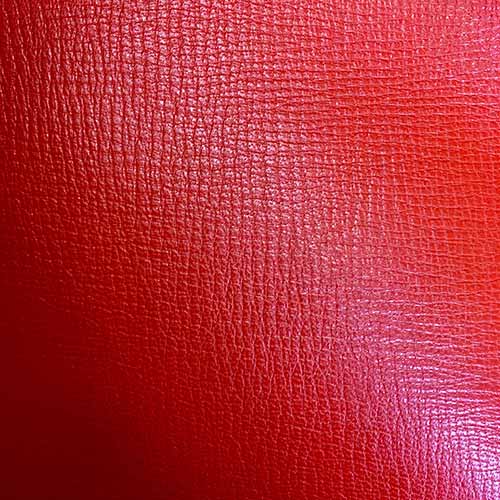 Handboarded
A classic, real handboarded finish on Goat leather with a high shine, glazed finish.
Size range: 6-8 ft

Substance: 1.2-1.4 mm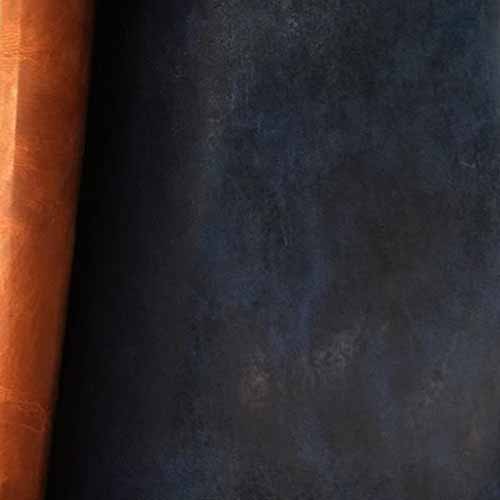 Bright Dog
A smooth grain antiqued goat, with hand antiquing and a polishable top
Size range: 5-7ft
Substance: 0.9-1.1mm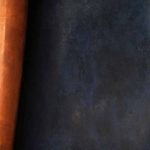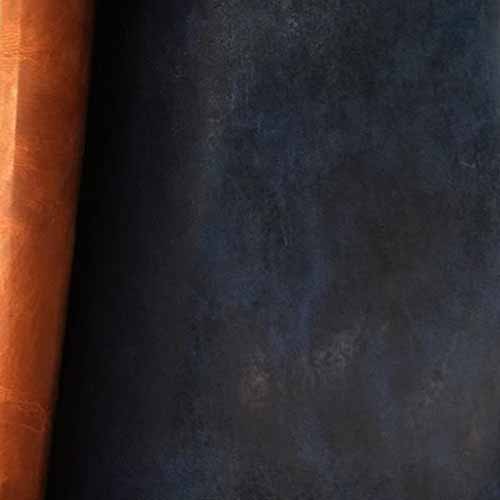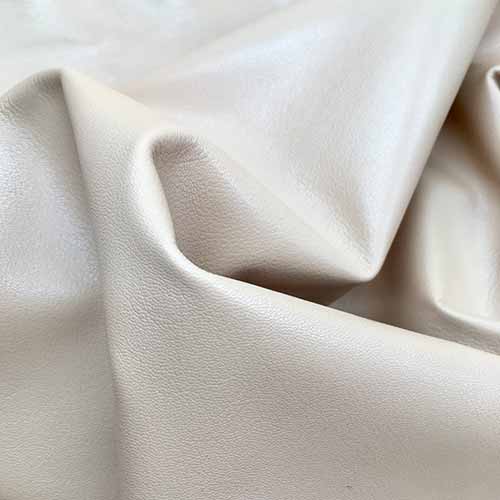 Solstice
A beautiful soft, silky goat nappa leather with a round hand feel, natural finish and refined grain pattern. Available in a huge variety of colours. Perfect for handbags and small leather goods.
Size range: 5-7ft
Substance: 0.9-1.1mm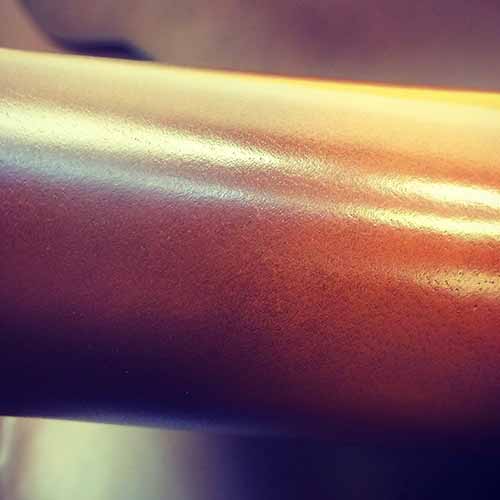 Santini
A smooth, brush off aniline goat leather that can be produced in any colour combination.
Size range: 5-7ft
Substance: 1.0-1.2mm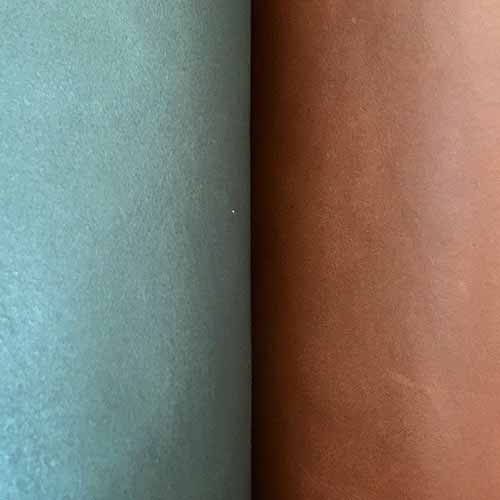 Ranch
A soft, natural, burnishable cow calf, with a tight break and fine hair follicle perfect for classic footwear.
Size range: 12-23ft
Substance: 0.9-1.1mm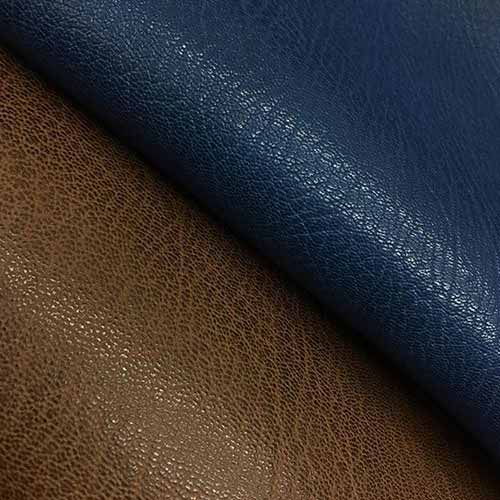 Sokoto Bookbinding Goat

The classic full vegetable tanned African Goat, with natural shrunken grain and an aniline hand tipped finish. Can also be on a Semi Chrome tannage for a softer hand feel and improved physical properties.
Size range: 6-8ft
Substance: 1.0-1.2mm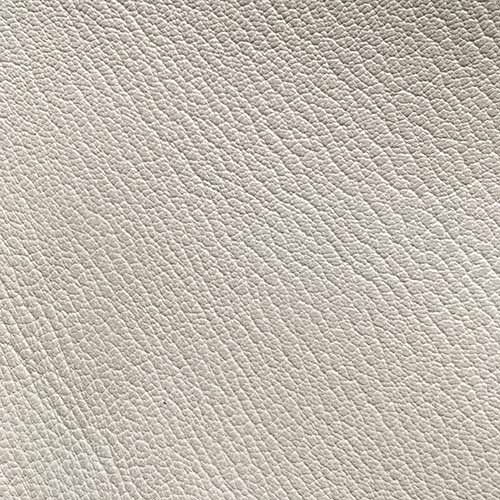 Capra GT
Our classic, even milled grain vegetable tanned Indian goat leather with a natural even, medium gloss finish.
Size range: 6-8ft
Substance: 1.0-1.2mm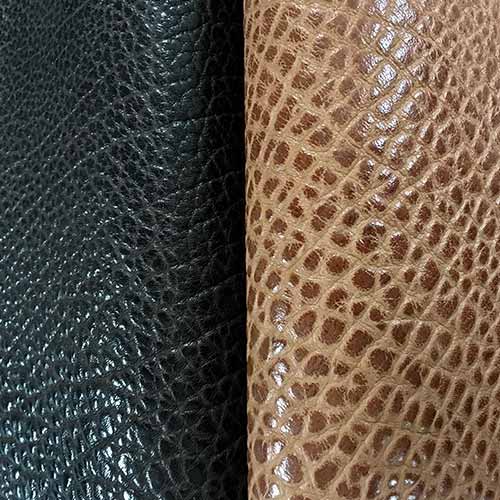 Bubalis
A very heavily shrunken buffalo shoulder with a natural, aniline hand tipped grain, and a beautifully mellow tannage.
Size range: 8-12ft
Substance: Up to 6.5mm
GET IN TOUCH WITH TUSTING & BURNETT
For swatches, sample skins or any additional information on any of our articles, please contact us using the form below or at office@tustingandburnett.com or phone us on +44 (0) 1234 376291 and we will be happy to help you.